Uses 💿
As a designer, developer and tech nerd I love all the gadgets and apps that will make my work easier or sprinkle a little more joy into the things I do. This page will be a living list of all the things I use on the regular for work and fun. WIP.
✨ This page is inspired from Wes Bos' and Brad Garropy's Uses pages.
🏠 Home Office #
The year 2020 moved me and many of us, into a work from home setup from one day to the next. I had never really been a fan of working from home, which let's be clear, is different than being remote. So, to make things work, I had to step it up and get a few more things to create a "fun" and productive space for me to work and game in. Even though I still miss working at an office or IRL coworking space, I do love the way it's coming together, and am very comfortable and happy with my little corner.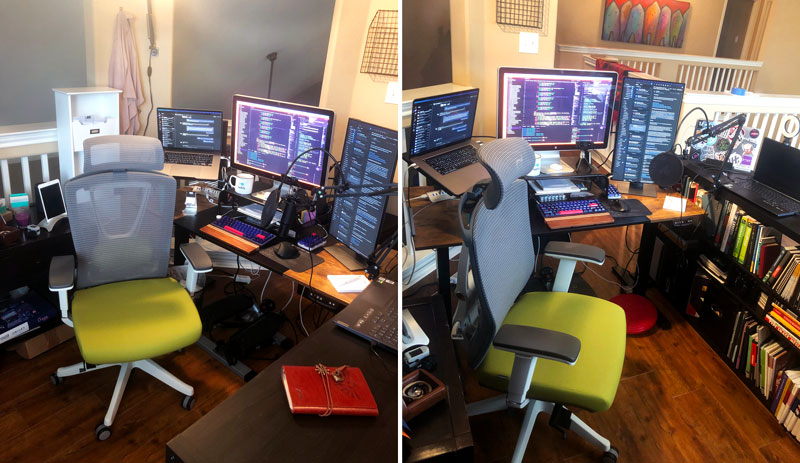 Computers, gadgets and office things #
---
💻 Computers + Monitors #
Mac: MacBook Pro 2016 (15") , Catalina
PC: Lenovo Legion 7 (15"), Windows 10 – (Thanks to the amazing RWC community) 😊
Work Mac: MacBook Pro (16-inch, 2021), Monterey

Apple M1 Pro, 16 GB memory

iPad Pro 10
Monitors:

Old Mac LED Cinema Display – (courtesy of my awesome Design Professor, Denny Fagan.)
Dell U2419H – another freebie!
⌨️ Accessories #
🪑 Furniture #
Code & Development #
---
👩‍💻 Editor & Terminal #
🌐 The Internets & Other Dev Apps #
Browsers

Primary:

Edge – yes Edge, it's actually pretty good

Dev Testing:
Extensions:
Design #
---
📐 Analog #
Fine and Medium Sharpies
Dot Grid Paper (Behance's Dot Grid Notebooks)
Micron Fine Markers
Post-its
Prismacolor Markers
🖱️ Digital #
Productivity & Vibes #
---
Messaging:
Email:
Launcher, Spotlight, Shortcuts:
Calendar:
Note-taking & Personal Projeet Management:
Focus & Flow:
Music:
Extensions/Apps
Passwords & Auth:
Mac Apps:
📱 Other #
---